Cristiano Ronaldo – Made in Manchester, conquering Europe
The Portuguese has found his ideal football boots, so why don't you? Give INTERSPORT'S Football Boot Finder a go to discover your perfect pair
Cristiano Ronaldo continues to set the bar in the UEFA Champions League, starring once again this week as he scored twice in Real Madrid's crucial 2-1 win away to Bayern Munich to become the first player to reach 100 goals in European competition.
The Champions League's all-time top goalscorer, and three-time winner, Ronaldo is unrecognisable from the lightweight, pimple-faced adolescent who turned up at Manchester United in 2003.
Instantly dismissed as a show pony by large portions of the British footballing fraternity, they said he was all style and no substance.
His stepovers were fruitless, his backheels superfluous; he was one-footed, he couldn't head the ball and didn't score enough goals.
It's scarcely believable they were talking about the same player we see today – one of the greatest of all time.
His six years in Manchester saw him undergo a remarkable transformation from rough diamond to the most expensive raw material in world football when he joined Real Madrid in 2009.
Every year he improved. Every season he came back with a new string to his bow. First, he learned to cross, providing the end product they said was missing. Then he found his left foot. Next, he learned to head, before honing a stunning free-kick technique.
After that, he bulked up, moulding a physique that appeared as though it had been carved by the gods. And finally, he gained an insatiable appetite for goals, devouring all before him.
The Nike Mercurial CR7 Chapter 4 pack has been released to celebrate those years that saw a young man from the tiny Portuguese archipelago of Madeira turn into the greatest footballer in the world.
On Wednesday, he proved it once again, his two goals ensuring the Mercurial remains top of the INTERSPORT Football Boot Ranking across all major leagues in Europe with a score of 9.8/10.
The INTERSPORT Football Boot Ranking has been created to empower football fans to choose the best available boot for their needs.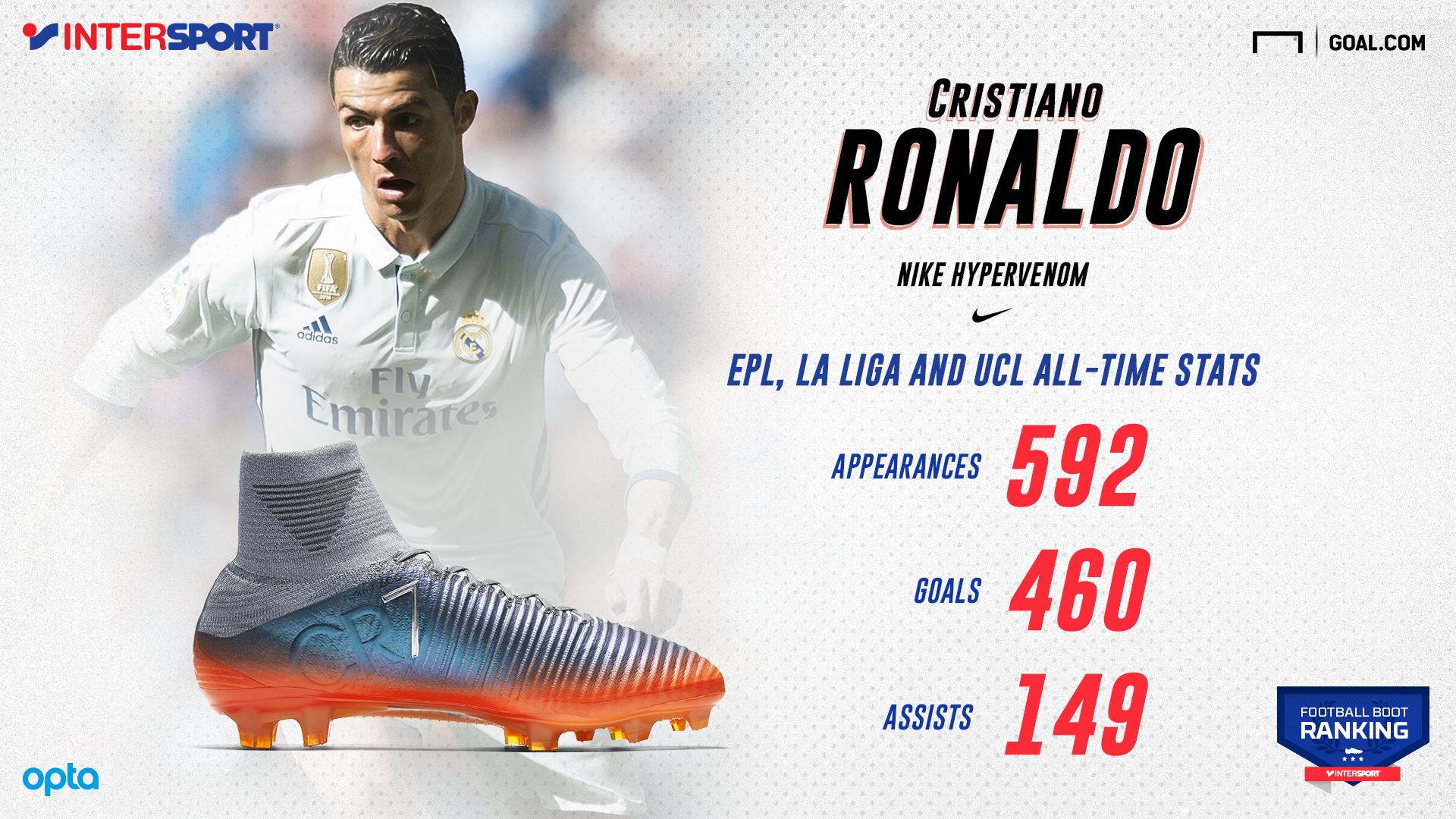 "Ronaldo is a perfect example of someone who made himself," said Alex Ferguson, who mentored him through those years.
"His practice ethic was incredible… Many coaches might say 'I made this player and I made that player', but Ronaldo made himself."
The two shared a special bond. "Ferguson was a football father for me," said Ronaldo, who lost his real father just two years after arriving in England.
Together, Ferguson and Ronaldo won three Premier League titles and the Champions League with Man Utd – all of which arrived after 2006 as Ronaldo's transformation was almost complete.
Ronaldo hit 84 goals in 157 Premier League starts for the club, but 66 of them came between August 2006 and May 2009 – a full 20 more than the next highest scorer during that time period.
He went 26 Champions League games without a goal before netting his first in April 2007, only for his next 110 appearances in Europe's premier club competition to bring a staggering 96 goals.
Every single one of them arrived while Ronaldo was strutting his stuff in Nike Mercurials. And there appears plenty more to come.
m.goal